Product Detail
Product Induction
Advantages
Product Tags


The Saw Tooth model greenhouse combines optimal ventilation with special strength for withstanding different loads. The roof ventilation alone provides 25% of the total ventilation of the covered area, in addition to the side ventilation. The shape of the arches allows excellent light transmission.
Greenhouses are structures that enable the cultivation of fresh agricultural produce (such as fruits, vegetables, flowers, etc.) in qualities, quantities and time periods otherwise impossible to achieve when cultivating on the same region in the open.
The area of the greenhouse is separated from the outside environment by a transparent cover that lets sunlight through and provides a wide variety of services to the plants and to the farmer:
· Physical protection from natural phenomena, such as winds, rain, hail, snow etc.
· Protection from damage by animals, whether large or tiny, by not allowing them to come into contact with the plants.
· Efficient application of pesticides in a closed environment.
· The possibility of maintaining a climate different from the climate outside, in order to improve the growth conditions.
· Protection from rain, and maintaining control of irrigation and fertilization conditions.
· Allowing work and harvest in any kind of weather.
Width of Gable
6.4 m
Height of Gutter
4, 4.5 or 5 m
Opening of Roof Vent
up to 1.60 m
Distance between columns
4 m
Trellising load
up to 25 Kg/m²
Wind load
122-147 Km/h
Balcony on Gutter Front
Advantages
Easy to assemble, cover and maintain;
High roof openings for natural ventilation;
Optimal heat and humidity release;
Structure suitable for warm climates;
Greenhouse Specifications.
Depending on the natural environmental conditions, the type of crop, and the farmer's requirements, different technical solutions can be found to achieve the same goal.
Therefore, tropical regions usually have many greenhouses whose main function is to provide physical protection for the crops – to protect the plants from winds and natural harms, to protect against rain in order to control the irrigation and fertilization routine, and sometimes in order to overcome diseases and pests.
These designated greenhouses are usually simple and cheap structures, covered in thin plastic sheets, with set ventilation openings and without unnecessary means of monitoring and control.
In areas where winters are cold and snowy, such as Europe, Canada or the US, or in areas that have a very cold winter and a very hot summer, like China or certain areas of Russia. Providing proper conditions for the plans throughout the year requires the use of more complex and sophisticated technological systems which are usually more expensive both in installation and in use. Such systems may be heating systems that consume large amounts of fuel during the winter, cooling systems that consume water and electricity, monitoring systems and more.
Providing one's crops with optimal growth conditions is not always economically viable. Usually, realities on the ground require compromise solutions. Sometimes they compromise on the quality of their equipment, sometimes they avoid growing some crops part of the year. At times they install only some of the auxiliary systems, with an option to add more when money becomes available. Any combination is possible and probably already in effect somewhere.
Basic columns – 3″ diameter – every 4 meters
Arches -2″ diameter every 4 meters
Roll-up curtains on side wall openings and on roof openings
This type is suitable for polyethylene coverings only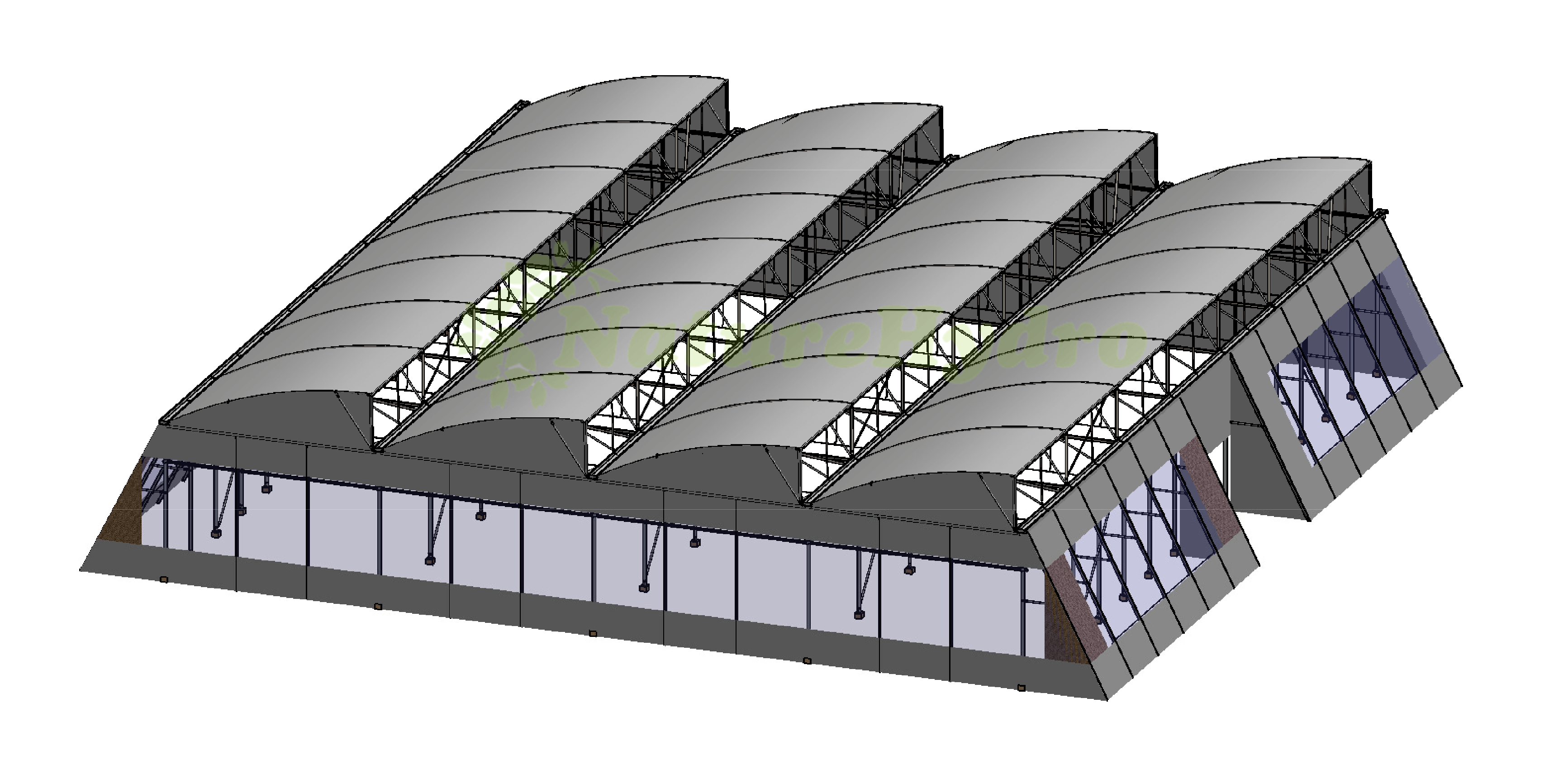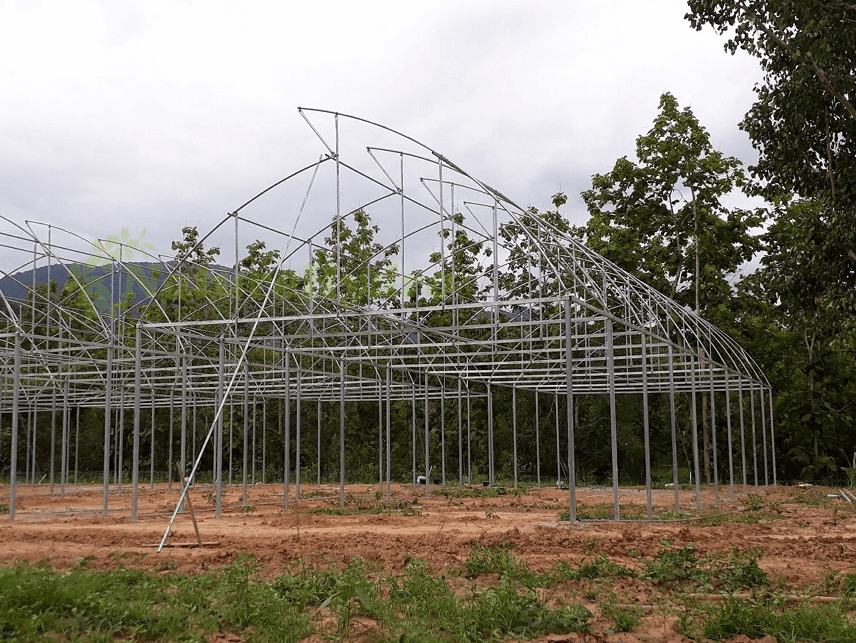 ---
Previous:
Next:
Aeroponic Tower System
---
Sawtooth Greenhouse is used more often in tropical areas.  The structures combine optimal ventilation with special strength for withstanding different loads.
In addition to the side ventilation, the greenhouse is supplied with a permanent ventilation opening on top, provides 25% of the total ventilation of the covered area. At the same time, it can be covered with insectnet.
When open the sawtooth vent allows a continuous airflow to reduce the inside temperature or can be closed to optimise the climate control of the growing area.
The shape of the arches allows excellent light transmission. Various standard widths and wall heights focuses on flexibility and the practical use of growing space and conditions.
a. Easy to assemble, cover and maintain
b. Frame of hot dip galvanized steel pipe
c. High roof saw tooth opening, proven ventilation technology with structural integrity for natural ventilation
Optimal heat and humidity release